Bonilla Home Page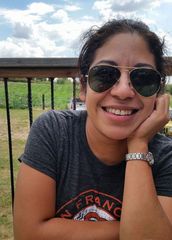 Carla Y Bonilla, Ph.D.
Assistant Professor
Biology Department
Gonzaga University
502 East Boone Avenue
Spokane, WA 99258
Phone: (509) 313-5594
Fax: (509) 313-5804
e-mail: bonilla@gonzaga.edu
Office Hours - Fall 2015
Wednesday:
2:00pm - 4:00 pm

Thursday: 10:00 am- 12 noon.
Courses

Biology 105- Information Flow in Biological Systems
Biology 105 Lab- Phage Discovery Lab
Biology 202 Genetics Lecture and Lab
Biology 207 Genetics Lecture
Biology 456- Molecular Biology Lecture and Lab
Biology 399- Bacterial Group Behaviors/Bacterial Pathogenesis
Research
I am fascinated by the ability of bacteria to survive in all types of environments. My research focuses on studying the response to environmental changes of the soil bacterium,
Bacillus subtilis
; that allow it to survive stressful conditions.
B. subtilis
is the model Gram positive organism because of its ease of genetic manipulation, sequenced genome and conservation with other pathogenic bacterial species. Bacteria, pathogenic and nonpathogenic, live in complex environments and must monitor their surroundings for nutrients, noxious chemicals, predators, etc. They accomplish this by using proteins that sense the environment (sensor proteins) and proteins that enact changes in gene expression (transcription factors) to ultimately alter the physiology of the cell and accommodate the changing conditions. I am interested in understanding the proteins involved in this bacterium's stress responses at a molecular level using a combination of genetics, biochemistry, molecular and microbiology techniques.
Funding

Murdock College Research Program for Natural Sciences Grant 2015. P. I.
W. M. Keck Foundation Grant 2014. Co-P. I.

Education
Postdoctoral Research, Massachusetts Institute of Technology, 2008-2012
Ph. D. Cell Biology, University of California, San Francisco, 2008
M. A. Biology, San Francisco State University, 2002
B. A. Molecular and Cell Biology, University of California, Berkeley, 2000