Patil
Vivek Patil, Associate Professor of Marketing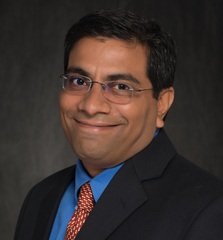 Education
Ph.D. (Business), 2006, University of Kansas, Lawrence
Master of Engineering (Software Systems), 2000, BITS, Pilani, India
Master of Management Studies, 1997, BITS, Pilani, India
Brief Biography
Vivek Patil joined the faculty of Gonzaga University in 2005. He has over 10 years of experience in teaching, conducting research and consulting with for-profit and non-profit organizations in the fields of marketing and marketing research. He teaches courses related to marketing, marketing research and multivariate statistics
.
Research Interests:
Research Methods and Consumer Behavior.
Courses Taught: Marketing Research, Multivariate Research Methods, Principles of Marketing
Select Publications
Joseph, Kissan, Ramanathan Subramaniam, and Vivek Patil (Forthcoming), "The Impact of Consumption Hassle on Pricing Schedules," Managerial and Decision Economics.
Patil, Vivek H., Matthew Q. McPherson, and Daniel L. Friesner (2010), "The Use of Exploratory Factor Analysis in Public Health: A Note o
n Parallel Analysis as a Factor Retention Criterion,"

American Journal of Health Promotion

, 24 (3), 178-181.


Patil, Vivek H., Surendra N. Singh, Sanjay Mishra, and Todd Donovan (2008), "Efficient Theory Development and Factor Retention Criteria: Abandon the 'Eigenvalue Greater Than One' Criterion",
Journal of Business Research
, 61 (2), 162-170.
Patil Vivek H, Surendra N. Singh, Sanjay Mishra, and D. Todd Donavan (2007), "Parallel Analysis Engine to Aid in Determining Number of Factors to Retain," [Computer software]. Available from http://ires.ku.edu/~smishra/parallelengine.htm.
Joseph, Kissan, David Laband, and Vivek Patil (2005), "Author Order and Research Quality," Southern Economic Journal, 71 (3), 545-55.