Stewart
Publications

Articles
Being Native American in Business: Culture, Identity, and Authentic Leadership in Modern American Indian Enterprises
2017. with Amy Verbos, Stephanie Black, Carolyn Birmingham, and Joseph Gladstone. LEADERSHIP.

Do Connections Always Help? Network Brokerage's Negative Impact on the Emergence of Status
2017. Bilian Ni Sullivan and D. Stewart. RESEARCH IN THE SOCIOLOGY OF ORGANIZATIONS. Vol 50: 315-349.

Native American Cultural Capital and Business Strategy: The Culture-of-Origin Effect
2014, with Joseph Gladstone, Amy K. Verbos, and Manasi Katragadda. AMERICAN INDIAN CULTURE AND RESEARCH JOURNAL. Vol 38 No 4: 127-138.

The Organizational Selection of Status Characteristics: Status Evaluations in an Open Source Community
2012. Alison Bianchi, Soong Moon Kang, and Daniel Stewart. ORGANIZATION SCIENCE. Vol 23: 341-354.

Close Encounters: Lessons from an Indigenous MBA Program
2011. with Molly Pepper. JOURNAL OF MANAGEMENT EDUCATION. Vol 35 No. 1: 66-83.

The Effects of Geographic Location and Economic Cluster Development on Native American Entrepreneurship
2008. Vincent J. Pascal and D.Stewart. INTL JOURNAL OF ENTREPRENEURSHIP AND INNOVATION. Vol 9 No. 2:121-131.

The Social Context of Servant-Leadership Assessments
2008. with Richard Martin. INTL JOURNAL OF SERVANT-LEADERSHIP. Vol 4, 321-345.

Native American Business Strategy: A Survey of Northwest U.S. Firms
2007. with Robert G. Schwartz. INTL JOURNAL OF BUSINESS PERFORMANCE MANAGEMENT, Vol 9 No. 3:259-277.

The Trappings of Status: The Relationship Between Tenure and Status in an Open-Innovation Community
2006. JOURNAL OF RESEARCH IN MARKETING AND ENTREPRENEURSHIP, Vol 7, 28-47.

Social Status in an Open Source Software Community
2005. AMERICAN SOCIOLOGICAL REVIEW, Vol 70 No. 5 OCTOBER, 823-842.
Book Chapters
Native American Entrepreuneurship: Locating Your Business
2016, with Vince Pascal, in Rosile, G.A. (Ed)
,
Tribal Wisdom for Business Ethics
, Emerald Publishers, ISBN: 1786352885.

Ethical Business Practices in Dardan Enterprises
2016, in Rosile, G.A. (Ed),
Tribal Wisdom for Business Ethics
, Emerald Publishers, ISBN: 1786352885.
The Emergence of Status in Online and Informal Organizations

2011. Bilian Ni Sullivan and D.Stewart. In Pearce, J. (Ed),

Status in Management and Organizations

.

Cambridge University Press

. ISBN:
9780521132961

Books

American Indian Business: Principles and Practices
2017. ISBN: 978-0295742090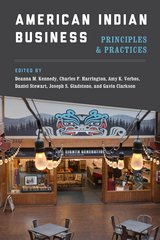 Dynamics of Social Status: A Sociological Study of an Open Source Community
2009. ISBN: 978-3639119633