Personal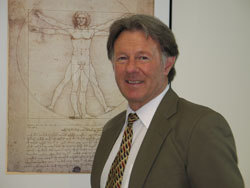 Hello and welcome to my Sport and Physical Education Department website. Currently I am an Associate Professor for the Sport and Physical Education Department. I recently served seven years as the Dean of the School of Education after having served as Chair of the Sport and Physical Education Department for over 18 years.
Originally from California, I received a bachelors degree and secondary teaching certificate in Social Sciences from Cal Poly-San Luis Obispo. While teaching and coaching in southern California I completed a Masters degree in Secondary Education, also from Cal Poly.
I relocated to Eugene, Oregon to attend the University of Oregon and there completed my PhD in Physical Education with an emphasis in administration and the social-cultural aspects of sport. Gonzaga University was my next, and last, professional stop.
Being a ZAG and living in the Northwest afford me the opportunity to continue downhill skiing and to play mediocre golf in the summers.
My wife is a middle school teacher in Spokane, and my daughter is attending Pepperdine University.
If you have questions please feel free to contact me directly by phone or e-mail.