David Boose's Home Page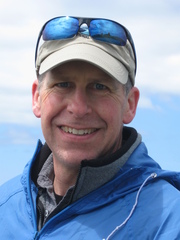 I am a plant population ecologist, dad, outdoor enthusiast, amateur chef, oenophile, Unitarian-Universalist, and occasional poet. I have been a member of the Gonzaga faculty since September of 1998. You can find out a little bit more about my research, teaching, and other activities by following the links to the left.
From 2007 to 2015 I served as the director of Gonzaga's
Center for Teaching and Advising
, initially part-time, and then full-time from September, 2013 to July, 2015. The CTA provides a number of resources and programs for faculty, in the service of creating and sustaining a culture of reflective practice in teaching and advising.
I am a native of Washington, having grown up on the west side of the state. After high school, I pursued college, a Master's degree, and a variety of work experiences on the east coast, in northern lower Michigan, and on Alaska's arctic coastal plain. I then completed my Ph.D. at the University of California, Davis, taught for a year and a half at Pomona College in Claremont, California, and had a postdoctoral position at the Rancho Santa Ana Botanic Garden, also in Claremont. I'm happy to be back in the Pacific Northwest, where I can enjoy all that this beautiful part of the country has to offer.