Braley
Amanda B. Braley
Laboratory Coordinator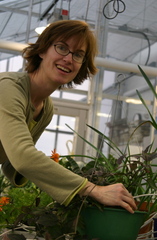 Office: 206 Hughes Hall
Office phone: (509) 313-6617
Education:
Master of Science, Plant Biology, University of California, Davis, September 1994, by thesis
Bachelor of Science, Biological Sciences,
University of California, Davis, June 1991, with honors
Current Position:
Biology Laboratory Specialist, Gonzaga University, Spokane, WA.; August 2006 to present

- implemented an authentic research experience introductory laboratory course modeled after the HHMI SEA-PHAGES program and coordinated the transition from the Biology 101 curriculum to Biology 105.



- implemented flipped classroom approaches to prepare students for laboratory activities, delivering materials, videos, and assessments to student through Blackboard.
- redesigned laboratory course curriculum for Biology 101L: Diversity of Life to include comparative animal physiology, testing of molecular phylogenies, and using learning management systems for delivering course content and student assessment.
-coordinated ordering and laboratory preparation for up to 350 students per academic year.
-coordinated maintenance of scientific equipment and facilities including centrifuges, spectrophotometers, light microscopes, dissecting microscopes, balances, plant growth chambers, and the department greenhouse.
- taught introductory laboratory sessions for Biology majors (Biology 105L: Information Transfer in Biological Systems, Biology 101L: Diversity of Life, and Biology 102L: Introduction to Ecology)
- coordinated student projects, evaluated student performance, and assigned grades
- supervised 1-3 student workers per semester
- coordinated and trained student teaching assistants



Publications:

Anders, K., A. Braley, and M. Poxleitner. 2013. Poster: Phage Discovery for Everyone at Gonzaga University. 5th Annual SEA-PHAGES Symposium, HHMI Janelia Farm Research Campus, Ashburn, VA, June 7-9, 2013.



Asmal,R., Asai,D.J., Bailey,C., Barker,L.P., Bonilla,J.A.,Boose,A., Bowman,C.A., Bradley,K.W., Butela,K.A. Byrnes,D., Caruso,S.M., Cervantes,J., Clase,K.L., Cochran,C., Cresawn,S.G.,Daniels,R.L., Delesalle,V.A., Dickson,J.Leon., Dovalina,S.,Ettinger,A.S., Gardner,S.M., Hatherill,J.R., Haydock,J., Heaver,S.,Jacobs-Sera,D., Jamison,W.P., Kluczek,K., Koga,A., Krukonis,G.P., Leslie,S.F., Lewis,M.F., Madison,L., McConnell,C., Meier,C.G., Mogen,K.L., Moran,D., Park,P., Pedulla,M.L., Plymale,R., Pope,W.H., Quintanal,C.A., Richard,E.M., Rickus,J.L., Robinson,C.J., Royal,M.O., Russell,D.A., Scott_Croshaw,C., Sebasco,E., Segarra,G., Shaffer,C.D., Suresh,M., Washington,J., Wiedemeier,A.M.D., Wiedemeier,P.D., Wodarski,D., Zimmerman,A.M., Hendrix,R.W. and Hatfull,G.F. 2013. Mycobacteriophage KayaCho GenBank KF024729 Direct Submission Pittsburgh Bacteriophage Institute and Department of Biological Sciences, University of Pittsburgh, 365 Crawford Hall, Pittsburgh, PA 15260, USA



Holt, J.S., and A.B. Boose. 2000. Potential for Spread of Abutilon theophrasti L. (Velvetleaf) in California. Weed Science 48:43-52



Boose, A. B., and J. S. Holt. 1999. Environmental effects on asexual reproduction in Arundo donax. Weed Research 39:117-127.



Braley, A.B.. 1994. The Effects of Water Stress on Herbicide Uptake and Translocation. MS Thesis. University of California, Davis.