Brooke
Books
Gabriella Brooke has written works of fiction, non-fiction, and translation.
For information on ordering any of her works, please click on the links below.
The Words of Bernfrieda
A Chronicle of Hauteville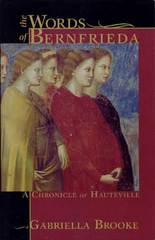 To order a copy, contact: Gonzaga University Bookstore, or malgaripress@icehouse.net. To read an excerpt from this book, click here More information about this work can be found here.
The Words of Bernfrieda is the story of an ordinary woman who discovers the power to determine her own life when faced with extraordinary forces that conspire to oppress her.
Set in medieval Italy in the year 1061, The Words of Bernfrieda is the chronicle of the Norman conquest of Southern Italy as a woman could have written it, instead of monks in the pay of the conquerors.
The daughter of a nobleman and a serf, Bernfrieda is very close to power–she is the half-sister and companion of the Lady Fredesenda of Hauteville, mother of the two Norman conquerors of the South. At the same time, because of her illegitimate birth, Bernfrieda is only a spectator to the events that take place all around her.
At the Abbey of Santa Eufemia where she and Fredesenda have retired, Bernfrieda spends long hours in the Scriptorium copying the lives of the (female) saints under the watchful and often critical eye of her teacher, Brother Gaufredus. When the monk Amatus visits Fredesenda to gather information about her noble son Robert, Bernfrieda realizes that her beloved mistress will be no more than a name in Amatus's chronicle. Spurred also by the disdain in which Brother Gaufredus holds all that her half-sister has accomplished, Bernfrieda decides to write a chronicle of her own to tell "all that Amatus's chronicle will leave out."
This, Bernfrieda does, filling in the blanks in contemporary chronicles by telling what was important and memorable in the lives of the women of her time, both noble and destitute.
But by writing her chronicle, Bernfrieda opens a Pandora's box , as memories she had suppressed begin to emerge eventually forcing her to re-evaluate her own life and much that she had taken for granted.
Le Parole di Bernfrieda
Una cronaca degli Altavilla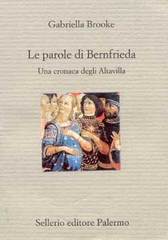 To order a copy, contact Sellerio editore Palermo at Liber on Web.
A translation of The Words of Bernfrieda by the author.
 


 


 


 


 
Gendering Italian Fiction
Feminist Revisions of Italian History

Co-edited by Maria Ornella Marotti and Gabriella Brooke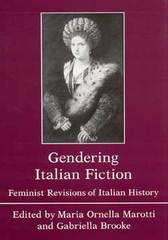 To order a copy, contact Associated University Presses
440 Forsgate Drive
Cranbury, New Jersey 08512
Telephone: (609) 655-4770
Email: aup440@aol.com
From the jacket:
Strongly impacted by Manzoni, the historical novel has developed in Italy with either a powerful focus on private stories of the marginal and ex-centric or a reinterpretation of uncommon and neglected facets of the lives of major historical figures. Although women's historical novels are related to these tendencies, they do not lack their own specificity, which is demonstrated by a clear awareness of gender in the structuring of the private stories that they narrate. A recurrent feature of Italian women's historical novels is also the frequent use of personal forms of narration,whether autobiographical,diaristic, or epistolary. While this narrative structure draws from the origin itself of women's fiction, that is personal writing, it also demonstrates that the specificity of women's historical writing is based on the blurring of the boundary between private and public spheres. The public sphere in these works is always subtly and yet powerfully impacted by the private.
Reviews
Gendering Italian Fiction:Feminist Revisions of Italian History by Elvira DI Fabio, Harvard University in Italian Americana, Summer 2002.
Gendering Italian Fiction. Feminist Revisions of Italian History. Ed.by Maria Ornella Marotti and Gabriella Brooke. Review by Ann Hallamore Caesar in MLR,96.2,2001.
Maria Ornella Marotti and Gabriella Brooke,eds. Gendering Italian Fiction:Feminist Revisions of Italian HistoryRutherford,NJ:Farleigh Dickinson UP,1999. Review by Stefania Lucamante,Georgetown University inAnnali d'Italianistica Vol.18,2000.
Gendering Italian Fiction:feminist revisions of Italian history, ed. by Maria Ornella Marotti and Gabriella Brooke. Farleigh Dickinson,1999. Review by S. Botterill, University of California, Berkeley in Humanities Choice November'99-Vol37,No 3. 1999 American Library Association.
---
Excerpts
The Words of Bernfrieda