Patrick Dunn Ferro Ph.D.
Mechanical Engineering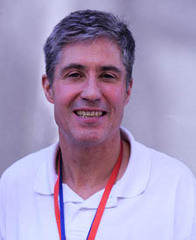 Professional Interests:
Materials Engineering, Manufacturing, Casting, Welding, Heat treatment, Silicon materials processing, Single crystal ingot growing, Hydrogen storage, Hydrogen embrittlement

Department:
Mechanical Engineering
Position:
Associate Professor

Phone:
509-313-3547

Office:
HK205

Email:
ferrop@gonzaga.edu
Education:
Colorado School of Mines, PhD Metallurgical and Materials Engineering, 1994

Oregon Graduate Institute, MS Materials Science and Engineering, 1988

Cornell University, BS Materials Science and Engineering, 1983

Biographical Description: Pat Ferro is an Associate Professor and Chair of the Mechanical Engineering Department at Gonzaga University. He has ten years of University teaching experience, and fifteen years of industrial experience in materials and manufacturing. He is licensed as a Professional Engineer (PE) and is a Certified Manufacturing Engineer (CMfgE). His indsutrial experience includes assignments as a Process Engineer in the investment casting industry (PCC, Portland Oregon), the silicon wafer manufacturing industry (Wacker Siltronic, Portland Oregon) and in alternative energy technology development (ChevronTexaco Ovonic Hydrogen, Rochester Hills, Michigan). His research interests include hydrogen storage alloys and hydrogen embrittlement of austenitic stainless steels. He is active as a consultant in the machine building and tooling indsutry.