McFarland
Home Page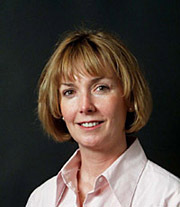 Dr. McFarland is the Dean of the School of Professional Studies at Gonzaga University. As Dean, Dr. McFarland oversees degree programs in the areas of Health and Leadership. These include undergraduate through PhD programs in leadership and graduate and undergraduate programs in nursing and a large undergraduate program in Exercise Science. The areas of Summer Session, Distance Learning, and corporate and professional Continuing Education also reside in the School. Dr. McFarland represents Gonzaga at JesuitNet which is a partnership of twenty five Jesuit Universities committed to the design and delivery of distance learning. Dr. McFarland is co-founder of the Gonzaga University Renaissance Center for Leadership and serves as a consultant in the area of leadership development. As a full professor her teaching focus is on health care policy, nursing education and leadership in corporate and higher education settings. Dr. McFarland's research focus is on effective leadership strategies during times of corporate organizational transformation. She serves on the Board of Directors for Regence BlueShield of Idaho and is a member of the Quality Care Committee of the Board of Directors of Saint Alphonsus Regional Medical Center in Boise, Idaho. Her career in nursing has included critical care, hospice, adult nurse practitioner, and nursing education. Dr. McFarland is a Robert Wood Johnson Fellow and recently completed a three year funded project in the Nurse Executive leadership program.
EARNED DEGREES
Doctorate of Philosophy Educational Leadership Gonzaga University, 1993
Master of Science University of Portland, 1984
Bachelor of Science in Nursing University of Iowa, 1978
Bachelor in Science Psychology/Nursing Science, 1975 University of Dubuque
Diploma in Nursing St. Anthony's School of Nursing, 1972
PROFESSIONAL EXPERIENCE
Gonzaga University Professional Studies - Dean & Professor 1998-present
Board of Directors: Regence Blueshield of Idaho 1998-present
RobertWood Johnson Nurse Executive Fellow 2000-2003 Alumni: 2004-present
Quality Care Committee: St. Alphonsus Hospital, Boise, Idaho 2003-present
Lewis-Clark State College Chairperson & Professor Nursing 1994-1998
RESEARCH
Leadership and Organizational Transformation, 1997 - present
Idaho Statewide Workforce Study - ICNNE, 1997-1998
Issues Affecting Women at Lewis-Clark State College, 1994.
The Process of Vision Development as described by Six College and University Presidents - 1993
An Ethnographic Study - The experience of attending an alternative school in Spokane, Washington (1991)
"Person" In the Roy Adaptation Model - Survey Research - 1986
Adaptation Zone: How Nurses Impact Adaptation (1987)
Student Nurse Response to ABG Expert System (1987)
Computers: Programming ABG's in M1 (1986-1987)
CONSULTATION
Gonzaga University Renaissance Center for Leadership, 1999 - present: CEO Institute
Agilent: Conflict Management, 1999
AVISTA: Leadership Development, 2002
Dioceses of Spokane: Leadership Development and Conflict Management for Principals and Pastors, 2002
St. Joseph Regional Medical Center - Theory to Practice - Implementation of Roy Adaptation Model, 1991 - 1994
GRANTS
Go the Distance. Gonzaga University, $15,000 per year, distance delivery grant. 2000, 2001, 2002, 2003, 2004
Organizational Health. Robert Wood Johnson Funded Project - $60,000. 2000 - 2003
Development and Implementation of on-line master's degree program in Organizational Leadership. $120,000 JesuitNet Congressional Grant. – 2003-2004