Yi
Home Page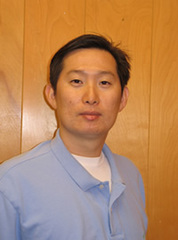 EDUCATION
Ph.D. Political Science, University of Chicago. June 2004.
M.A. Political Science, University of Chicago. June 1996.
Certificate, Korean Language Institute, Yonsei University. June 1994.
B.A. Political Science, UC Berkeley. June 1993.
Joseph Yi joined the Political Science Department in 2006 and taught previously at Oberlin College (Ohio), California State University (Fullerton) and Chapman University (CA). Professor Yi's teaching and research interests include American Politics, Public Administration, Urban Politics and Civic Participation, Race and Ethnicity, and Methodology. He published a review essay in The Journal of Religion and recently signed a contract with Lexington Books for his forthcoming book, God and Karate in the Southside: how to bridge differences and govern our diverse society.
Reviewer Lawrence Anderson (U of Wisconsin-Whitewater): "I think this is an extraordinarily innovative and interesting work. It will force political scientists and others devoted to liberal-plural ideals to re-evaluate the extent to which traditional-hierarchical organizations can accomplish liberal goals."
Joseph and his lovely wife Jiyeon are the proud parents of two boys, Jonah (age 3) and James (newborn: 9/10/06). He enjoys good conversation, sports and the outdoors, including biking, yoga and pilates.