Scholarly Activities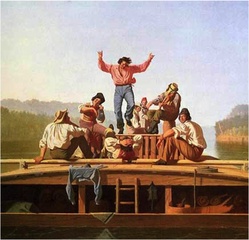 Peer-Reviewed Publications

Sounds American: Identity and the Music Culture of the Lower Mississippi River Valley, 1800-
1860
, The University of Georgia Press, 2011.


"Roma Americans," and "Spokane," contributing entries for
Multicultural America: A Multimedia Encyclopedia
, ed. Carlos E. Cortes and J Geoffrey Golson. Sage Reference, forthcoming.

Review of Battle Hymns: The Power and Popularity of Music in the Civil War, by Christian McWhirter, Journal of American History (December 2012).

Jim Crow's Counterculture: The Blues and Black Southerners, 1890-1945, by R. A. Lawson, Journal of Southern History (Spring 2012).

Review of River of Dreams: Imagining the Mississippi Before Mark Twain, by Mark Smith, and American Confluence: The Missouri Frontier from Borderland to State, by Stephen Aron, Journal of the Early Republic (Summer 2010).
Review of Anglophilia: Deference, Devotion, and Antebellum America, by Elisa Tamarkin, NeoAmericanist Reviews (Spring/Summer 2010).
"Music-Popular and Folk," contributing entry for Encyclopedia of the Early Republic and Antebellum America, 1787-1861, M.E. Sharpe, 2010.

"Basile Jean Bares" and "Samuel Snaer," contributing entries for The African American National Biography, Harvard University's W.E.B. DuBois Institute and Oxford University Press, 2008.
Other Scholarly Publications
"Ben Franklin's Chair." Charter: Gonzaga's Journal of Scholarship and Opinion (Fall 2010).
"Where Music is Not the Devil Enters: Children's Music Instruction in Late Nineteenth Century Milwaukee." Wisconsin Magazine of History (Winter 2005-2006).
"Song Catchers, Ballad Makers and New Social Historians: A Historiography of Appalachian Music." The Tennessee Historical Quarterly (Fall 2004).
"Trimborn Reflections." Milwaukee History; The Magazine of the Milwaukee County Historical Society (Spring/Summer 2003).



Conference Papers Delivered
"Gypsies and Roma: Perceptions and Realities in Nineteenth Century American History." Gypsy Lore Society Annual Meeting and Conference on Gypsy/Roma Studies, 2012.

"Dancing in the Middle Ground: Dance and Music Education in Early Nineteenth Century New Orleans." Midwest World History Association, 2010.
"Integration or Exclusion: The Use of Dialect Lyrics and Early American Cultural History." Popular Culture Association/American Culture Association National Conference, 2010.
"The Invention of Ethnic Music Genres Along the Lower Mississippi." American Society for Ethnohistory, 2009.

"The Spanish Never Made us Dance the Fandango: Americanizing the Other and Ethnicizing the Nation Along the Lower Mississippi." Louisiana Historical Association, 2008.
"The Musical Culture of the Riverboat Men." Popular Culture Association/American Culture Association National Conference, 2007.
"The Sounds of Little Egypt: The Musical Culture of Cairo, Illinois during the Mid-Nineteenth Century." The Music of the Ohio River Valley Symposium, 2006.
"'Where Song Is, There 'Tis Good to Dwell; For Wicked, Songs No Joy Foretell': The Importance of Music in the Education of Milwaukee's Youth." Society for the History of Children and Youth, 2005.