Donnelly
Dark Rose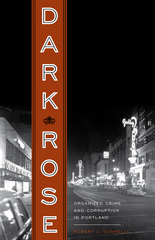 Dark Rose: Organized Crime and Corruption in Portland. Seattle: University of Washington Press, 2011.


In April 1956, Portland Oregonian investigative reporters Wallace Turner and William Lambert exposed organized crime rackets and rampant corruption within the city's law enforcement institutions. The biggest scandal involved Teamsters officials and the city's lucrative prostitution, gambling, and bootlegging operations. Turner and Lambert blew the cover on the Teamsters scheme to take over alcohol sales and distribution and profit from these fringe enterprises. The Rose City was seething with vice and intrigue. The exposé and other reports of racketeering from around the country incited a national investigation into crime networks and union officials headed by the McClellan Committee, or officially, the U.S. Senate Select Committee on Improper Activities in the Labor or Management Field. The Commission discovered evidence in Portland that helped prove Teamsters President Dave Beck's embezzlement of union funds and union Vice President Jimmy Hoffa's connection to the mob.
Dark Rose reveals the fascinating and sordid details of an important period in the history of what by the end of the century had become a great American city. It is a story of Portland's repeated and often failed efforts to flush out organized crime and municipal corruption-a familiar story for many mid-twentieth-century American cities that were attempting to clean up their police departments and municipal governments. Dark Rose also helps explain the heritage of Portland reform politics and the creation of what is today one of the country's most progressive cities.
Reviews:

"
Dark Rose
will be appreciated by lay readers, students of crime and vice, sociologists, and scholars of municipal ills in America." -Clark Secrest,
Western Historical Quarterly
, Summer 2012.
"He critically uses many sources to create a narrative that alerts readers to numerous participants' lies and half-truths. Readers interested in Oregon history or in American urban, journalism, political, or criminal history will find value in Donnelly's accounting." -Harry H. Stein,
Oregon Historical Quarterly
, Winter 2011.
"Robert C. Donnelly lays out a surprising, and depressing tale of decades of rampant corruption." -Lee Juillerat,
Klamath Falls Herald and News
, August 2011
"Corruption and mob ties were not solely concentrated in Vegas as America spread west. 'Dark Rose: Organized Crime and Corruption in Portland' delves into the history surrounding Portland, Oregon after World War II. The corruption ran deep into the law enforcement, into the Teamsters unions, and into politics. With new evidence discovered in recent years, 'Dark Rose' proves to be an intriguing and very highly recommended read for American history collections." - Midwest Book Review
"Dark Rose takes readers inside a seamy and significant episode in Portland's history, complete with snitches, secret tapes, and a Congressional spotlight on the city's corruption that made it a national object lesson for municipal reform." -William Lang, Portland State University
"An absorbing account of a time when criminals, politicians, and labor leaders ran an open city of corruption, gambling, and prostitution, until a newspaper did its job. The book is gripping for the names you won't recognize, and the names you will." -David Sarasohn,
The Oregonian
For more information, please view the UW Press Catalog here.
See also:


Interview with KEXP Seattle (audio),
http://www.youtube.com/watch?v=uVP8lSOvEjE
Interview with KBOO Portland (audio),
http://kboo.fm/node/30603
YouTube trailer,
youtu.be/Zkf6_dbIE8A
Interview with Book Club Live,
bookclublive.blogspot.com/2011/07/interview-with-robert-donnelly-author.html

Pacific Northwest Inlander,
www.inlander.com/spokane/article-16678-for-your-consideration.html

The Oregonian,
www.oregonlive.com/books/index.ssf/2011/07/dark_rose_review_when_crooks_r.html