Scholarly Activities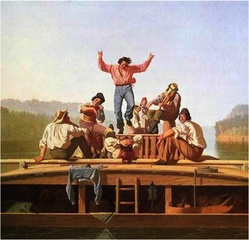 Books


Sounds American: Identity and the Music Culture of the Lower Mississippi River Valley, 1800–

1860

(The University of Georgia Press), 2011. Limited Preview Available.


Articles
"Louisiana Bohemians: Community, Race, and Empire." Early American Studies (forthcoming).



"'To Get Himself Out of Slavery": Escape, Justice, and Honor in the Life of a Colonial French Louisiana Bohemian (Gypsy)."

Frühneuzeit-Info

31

(Fall

2020).

"Novel Adventures: Using The Journey to the West to Teach Tang China History and Culture." Education About Asia 25 (Fall 2020): 12–17. Read Online

"Racializing American 'Egyptians': Shifting Legal Discourse, 1690s-1860s." Critical Romani Studies 2 (Fall 2019): 42–59. Read Online.


"The Mythical Musical Boatmen: Integrating National Icons in Early American Culture."

American Music

37 (Summer 2019): 197–228

. Access via Jstor.



"Music of the Early American Republic."

The American Historian

19 (February 2019): 14–19.

Read Online.



"Contextualizing American Gypsies: Experiencing Criminality in the Colonial Chesapeake."

Maryland Historical Magazine 114 (Fall/Winter 2018): 192–222. Read Online.



"'An Egiptian and noe Xtian Woman': Gypsy Identity and Race Law in Early America."

Journal of Gypsy Studies 1 (2017): 5–15. Read Online.



"Where Music is Not the Devil Enters: Children's Music Instruction in Late Nineteenth-Century Milwaukee." Wisconsin

Magazine of History 89 (Winter 2005–2006): 2–11. Access via Jstor.



"Song Catchers, Ballad Makers and New Social Historians: A Historiography of Appalachian Music." The Tennessee Historical Quarterly (Fall 2004): 192–202.

Access via Jstor.