Riders in the Storm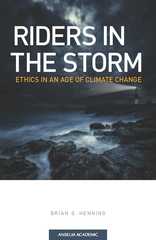 Ethics in an Age of Climate Change
(Anselm Academic 2015)
Read the
Preface
Buy it for $22.95 on Amazon

or $18.36 digital from

KNO. It is also digitally available through iTunes/iBooks.
Teachers, order an exam copy from the
publisher
Named among the "
best climate change book of all time
" by BookAuthority.org
Global warming isn't coming; it is already here. Human-induced global climate disruption is no longer a theoretical concern, neither is it an outcome that can be avoided if only the right policy is adopted or the right technology is invented. The oceans are rising and becoming more acidic, ice is melting, and droughts are becoming more prevalent. Determining how not only to survive, but live a good life in an age of climate change is the most pressing challenge facing humanity. The fate of the human community and many of the organisms with which we have evolved hang in the balance.
In
Riders in the Storm
professor of philosophy and environmental studies Brian G. Henning presents a clear and accessible introduction to why global warming is happening, why it is still debated in the popular media and in congress, and what the international community is doing to try to address it. He contends that the mainstream moral frameworks of "sustainability" and "stewardship" are welcome improvements over more destructive attitudes regarding humanity's place in nature, but that they are ultimately insufficient. Encouraging a return to the roots of ethics, which for millennia has focused on examining the nature of the good life well lived,
Riders in the Storm
explores the "great work" of voluntary simplicity, wide sustainability, and humble self-stewardship. Equipped with colorful graphics and images, suggestions for further research and reading, and dialogue prompts, this text is a straightforward and engaging introduction to climate change.
Endorsements
"The century's task, a task set for us by that implacable master physics – is to make ourselves smaller. This book is an eloquent reflection on that beautiful chore."
-Bill McKibben
Middlebury College
We are now in the first century in the thirty-five million centuries of life on Earth in which one species can jeopardize the planet's future. In
Riders in the Storm: Ethics in an Age of Climate Change
, Brian Henning is right that the identity of the twenty-first century will increasingly be defined by long-festering ecological crises, made worse by political and market failures. Here is a basic introduction, full scale across science, politics, and economics, seeing climate change as both ethical failure and opportunity. His analysis is well researched and documented, well presented, and quite readable.
Riders in the Storm
joins the most forceful voices in this keystone concern on the global agenda.
--Holmes Rolston III
University Distinguished Professor and Professor of Philosophy
Colorado State University
In
Riders in the Storm: Ethics in an Age of Climate Change
, Brian Henning shows that we are called to rethink everything in view of the catastrophe we face so as to engage together in the great work to which Thomas Berry has been calling us. Central to honorable pursuit of this work is personal morality, and this morality must shape our lives to the needs of our times. Like every truly wise morality, what it calls for is not miserable sacrifice but joyful, responsible life.
-John Cobb, Jr.
Claremont School of Theology
Reviews
"Brian Henning ... intends to provide a teaching text that offers an analysis of the science, politics, economics, and ethics of global warming, and he does so admirably. He agrees with the cultural historian Thomas Berry that responding to human-caused climate change is the "great work" of our age. Thus, he provides an extended ethical argument that this great work requires a new way of thinking and acting, grounded in a new understanding of ourselves and our relationship to the Earth."
-J. Milburn Thompson, Bellarmine University
Horizons
42.2 (2015) 485-487
Table of Contents:
Preface
Chapter 1: Climate Change Isn't Coming—It's Already Here
On Thin Ice
The Difference between Climate and Weather
Rolling the Climate Dice
Our Holocene Home
Welcome to the Anthropocene
Future Projections and Impacts
Chapter 2: Understanding the Science of Climate Change
What Science Is (and Isn't)
The Basics of Climate Science
What If We Are Wrong?
Chapter 3: The Political Response to a Changing Climate: The Market-Based Approach
The International Political Process: Rio, Kyoto, and Beyond
Kyoto and Its US Critics
Outsourcing Morality to Economics?
Chapter 4: The Sustainability Paradigm
What Is Ethics?
The Rise of the Sustainability Paradigm
Beyond Sustainability
Developing an Environmental Ethic
Chapter 5: Ecological Stewardship and the Great Work
From Despot to Steward
The Great Work and the Ecozoic Era
Voluntary Simplicity
Chapter 6: Moral Idealism, Hypocrisy, and Pursuit of the Great Work
Be Realistic
Hypocrisy and the Pursuit of Moral Ideals
Appendix: Eating Animals on a Warming Planet: A Case Study
Meat Production's Role in Climate Change
Three Scenarios for Reducing the Climate Impact of Livestock