The Ethics of Creativity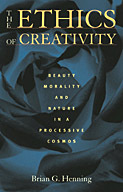 The Ethics of Creativity: Beauty, Morality, and Nature in a Processive Cosmos
(University of Pittsburgh Press 2005)
2007 winner of the Metaphysical Society of America's John N. Findlay Book Prize for the best book in metaphysics published between 2001-2006.
Voted one of the Top Ten Picks for university press books by Foreword Magazine in 2014
View more information about this book from the publisher
Buy it from
Amazon
Table of contents
Read a selection
Read the foreword by Daniel Dombrowski
Book Description
A central concern of nearly every environmental ethic is its desire to extend the scope of direct moral concern beyond human beings to plants, nonhuman animals, and the systems of which they are a part. Although nearly all environmental philosophies have long since rejected modernity's conception of individuals as isolated and independent substances, few have replaced this worldview with an alternative that is adequate to the organic, processive world in which we find ourselves. In this context, Brian G. Henning argues that the often overlooked work of Alfred North Whitehead has the potential to make a significant contribution to environmental ethics. Additionally inspired by classical American philosophers such as William James, John Dewey and Charles Sanders Pierce and environmental philosophers such as Aldo Leopold, Peter Singer, Albert Schweitzer, and Arne Naess, Henning develops an ethical theory of which the seminal insight is called "The Ethics of Creativity."
By systematically examining and developing a conception of individuality that is equally at home with the microscopic world of subatomic events and the macroscopic world of ecosystems, The Ethics of Creativity correctly emphasizes the well-being of wholes, while not losing sight of the importance of the unique centers of value that constitute these wholes. In this way, The Ethics of Creativity has the potential to be a unique voice in contemporary moral philosophy.
From the Back Cover
"This book provides a remarkably clear and attractive foundation for an ethic that seamlessly binds human social justice to a wider moral engagement with the natural environment. Enhancing intrinsic beauty everywhere is shown to be our deepest obligation and our highest joy."
--Frederick Ferré, University of Georgia
"With his focus on creativity, Henning throws into a new light all the classical concerns of ethics-persons, pleasures, pains, life, death, rights, utilities, virtues, the beautiful, the ugly, the good, the evil. He exemplifies the creative process he so much celebrates. Often demanding, this is always a most illuminating analysis: ethics taken at the pitch."
--Holmes Rolston III, Colorado State University
Reviews
"Brian Henning has produced a veritable vade mecum of reflections upon the intertwining and implications of metaphysical, aesthetic, and ethical issues in the work of Whitehead. He forcefully and insightfully places creativity at the very heart of Whitehead's philosophical project. This category of the ultimate, meant to specify the most fundamental feature of cosmic process, is rotated in resolute and perspicuous fashion by Henning in a set of chapters that mix, in appropriate, but not fully separated, measures, exposition, argumentation, and application." --Society for the Advancement of American Philosophy
"Henning has given us a rigorous work of ethical philosophy for the new millennium. If there are details still to be worked out, such is true with all visionary works. The Ethics of Creativity deserves to be read more than once and could be used in a graduate, or upper level undergraduate, environmental ethics course, or as an interesting addition to any course on Whitehead's philosophy. If we are to contribute to the further development of a beautiful world, more work should be done to bring process philosophy into the service of producing creative solutions to current world problems. The Ethics of Creativity is a bold and positive step in exactly the right direction." --Process Studies
"Henning does a good job showing how a Whiteheadean-based ethics overlaps with traditional moral theories in important and valuable ways, and also how it goes beyond them both in its comprehensiveness and its overall promise. It is in his suggestions regarding the ethical promise of a Whiteheadean, kalogenoc world view that Henning's work is most noteworthy—and hence deserving of considered attention by anyone interested in rethinking the dominant world views."—Philosophy in Review
"Henning explores many of history's finest philosophers of environmental ethics in his composition of a beauty ethic that expands our sphere of moral concern beyond living things. This remarkable philosophical work also includes Henning's formal 'obligation of beauty,' beseeching each of us 'to always act in such a way so as to bring about the greatest possible universe of beauty, value, and importance that in each situation is possible.'" --Foreword Reviews